After a long abscence from gaming in general, and longer still for LotR, it's good to see the Last Alliance still going strong.
I started playing again in December and added some additional troops to my White Hand force before being drawn back to the Fall of the Necromancer book. Despite having bought all the figures and painted them on release, we never got round to playing any of the scenarios from the book. As terrain making as always been one of the main parts of the hobby for me, and my gaming friend Malc was keen to let loose his Elves in Mirkwood, I decided to get on an build all the pieces we would need for the campaign.
Using my trusty Woodland Scenics tree armatures, clump and fine leaf foliage I started on the trees for my own version of Mirkwood, using the terrain guide in the Sourcebook for inspiration. Having made the trees, I got busy with the hamster bedding for the cobwebs...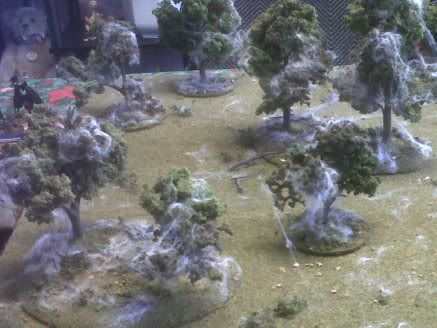 Next up was the Lair of the Spider Queen. This was made using the guide in the book, though I decided to elaborate on the base a bit more. I used blue styrene for the main construction:
The door is made from Balsa wood with plastic card details. I added a few skulls from the GW skull pack. Other detritus is Woodland Scenics Deadfall and assorted foliage and leaves.
Just awaiting the cobwebs to make her feel at home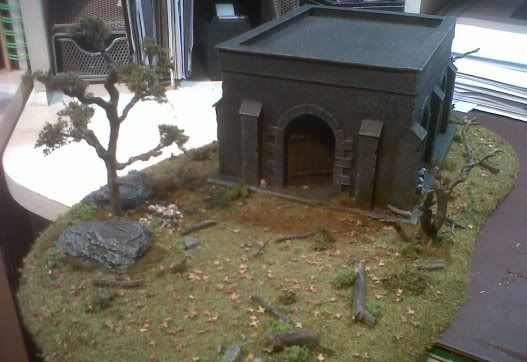 I'm just finishing another 3 tree bases, then it's on with the Necomancer's tower. I'm adapting a building that was originally destined for Osgiliath but never finished - which some of you may well recognise!